description
Dipstick is our award-winning freeware that allows you to quickly evaluate mirror sites and figure out which one is the best suited for download for you at this very moment.
The summary of dipstick features:
Lets you evaluate the list of mirrors to find the closest one
Can store the list into a comma separated values file for later retrieval or further processing
Able to parse the HTML selection to find the URLs<
Doesn't take much space on the screen
Open source for those willing to add missing features, fix bugs and examine code for potential flaws and fun
You're free to torture it the way you want to as long as you preserve original author's credentials
It would cost you nothing unless you're willing to monetarily express your gratitude and make a donation
Once you find yourself with a list of mirrors you will want to launch dipstick. Dipstick will show up on the screen as a small window, where you can drag'n'drop or copy'n'paste URLs in question (of course you can also enter URLs or hosts manually):

If you drop or paste the HTML selection you will be given the list of links found, so that you can select the ones of interest.
After you provided dipstick with links it will start to evaluate links by pinging the hosts. To prevent you from being bored the rain will go through the dipstick's window like this:

When dipstick is done checking links it will automatically (unless you turn it off in the options) come up with the fastest mirror, giving you the oportunity to open the URL, copy it to clipboard or examine further locations:

To examine the list of links and results or to explore advanced dipstick's capabilities you can bring up the main window by clicking on the "dragpad":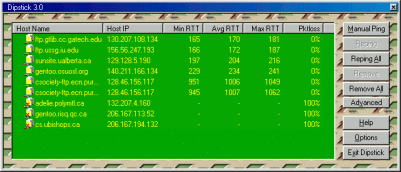 2011
2009
2008
2006
2005
2004
1998
1997
1996